We all want to get online and find magic cuties to have sex with at the touch of a sweet, tender button. But sometimes, it seems like all the good sites are almost too good to be true. Is Xmeets here to help you get some action, or is it just another garbage scam to get you tangled in their premium pricing web?
---
First Impressions
Signup is a snap – just an email address, username, and password, and you're in! From there, you're immediately sent to the page pushing you to upgrade to premium – or to confirm your email. Otherwise, you can't access any of the goods.
As soon as you confirm your email, you're greeted by tons of NSFW pics of women who are supposedly in your area now. You can also read recent member tweets that say horny things like "meaningless sex is what I need right now."
After I confirmed my email, the site itself immediately had me raising a brow. Maybe it's their clickbait kind of vibe. Maybe it's that you're redirected to the payment page first thing – or maybe it's the women who message you as soon as you log in, despite the empty profile.
Whatever it was, I wasn't sold on what Xmeet was dishing out – but I'm here for research, and I'm here to get laid, so I kept on going.
Features
Browsing around the features, you'll see plenty of the standard hookup site offerings. There's a message bar along the bottom right that immediately gets lit up with ladies apparently eager to slake their burning thirst – and even those without profiles filled out will do.
You can filter your searches to find some hotties by age and distance, to try and meet someone offline. If scrolling through endless lists of profiles isn't your thing, head over to the "quickie" tab, where you'll be greeted by a random profile pic with the question, "Interested in a quickie with her?" posted across the top. You can choose yes or no, and be directed to the next profile pic to assess, just like Tinder for the browser.
Unlike Tinder, they offer Live Cams...in theory. When I was online, nobody was offering it.
This is where it all starts to get extra hairy. You can only view a handful of profiles for sexy messaging for free – and most of them have a curious little star on their profile that says "FC." A little digging through the terms and conditions revealed the FC stands for "Fantasy Cuties."
These aren't just premium member stars; they're fake profiles operated by the site and third-party contractors. Translation: all those babes with stars are either catfishers or bots. And every single profile I saw had one of those pesky stars.
According to the site, they're there for "entertainment purposes" and to "illustrate" how to use the site – but what kind of horny user is clicking their way through the terms and conditions before getting started? Not many, I imagine. That means they leave the major leg work to the researchers, and absolve themselves of all the blame, all in one go. Sounds like a scam to me, if I ever heard one.
But if you aren't convinced and still want to keep digging on the site, there are other features to enjoy, like, their selection of XXX Movies. There, Xmeets features almost thirty pages of videos with fifty-eight categories including amateur, babe, big ass, big cock, fishnet, deepthroat, glasses, hairy, redhead, tattoo, uniform, toys, and more. But before you get too excited, that porn doesn't come free – it requires a premium membership.
That's what's the worst about this site – they lure you in with "Fantasy Cuties" – AKA bots and scams – and give you such limited access for free that it's difficult to suss out what's a scam and what's genuine. Each new turn pressures you to sign up for Premium membership, without giving you the chance to see how many of these hot ladies are actually real people. My guess? Not many.
Pricing and Membership Details
If you're still looking to sign up – maybe it's the porn, or maybe you like talking to bots – their rates are tiered depending on how many months you purchase ahead of time:
3-day trial: $2.97 per day, billed one-time at $8.90
Only offers 10 profile views and message sends per day
1 Month: $29.95 per month
Offers unlimited profile views and messaging
3 Months: $16.64 per month, billed once at $49.95
Offers unlimited profile views and messaging
6 Months: $11.65 per month, billed once at $69.90
Offers unlimited profile views and messaging
In addition to unlimited views and messaging, Xmeet promises premium members new members daily, cell phone texting, private friends-only photos, multiple search features, XXX movies access, and personal matchmaking. However, proceed with caution! These perks can all be offered from the Fantasy Cuties, meaning you still won't be in touch with anyone for real-live lovin'.
When you sign up for a six-month contract, be careful, as you're automatically subscribed for month-to-month billing afterward – so mark it on your calendar in case, to keep you from getting surprised by a nasty monthly bill.
Pros
Simple signnup process
Many users are bots
Conclusion
Xmeets promises a lot, but delivers little in actual access to sex, hookups, or long-distance lovin'. If you want to get laid, get sexy long-distance with some webcams, or meet actual cuties to send dirty sexts and Snapchats to, you're better off putting your time and money elsewhere. When the only verifiable nudes you'll see are on porn you need to pay for, you might as well just go to YouPorn to get off for free.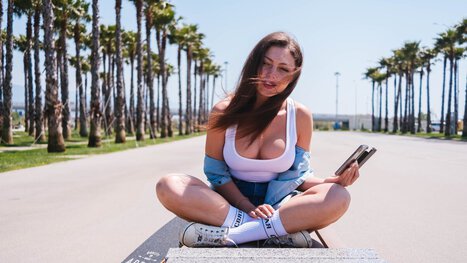 Snapbang's name alone tees you off to know that this site is all about helping you get it on and find people to watch undress digitally and IRL. But is it the real deal, or just another way for shady companies to take your money and waste your time?
Naughty Date invites you to "bring your innermost desires to life!" Between their name and their slogan, you have to wonder if they deliver the goods, or if they just deliver your innermost frustrations in the form of billing and unanswered messages.
Angie [1 mile away] wants to bang