We all love dating apps, especially apps to get sex, and we love to have our fun adult-style, but sometimes, those hidden fees rack up and ruin the promise of a good time. Thankfully, there are some gems out there giving it away for free. Here are five of the best sexy, free dating apps to help you get laid tonight.
---
Feeld
I'll kick things off with a personal favorite: Feeld. This has been my go-to place to find some lovin' for years. With an emphasis on not judging you doing you, Feeld is all about catering to whatever desires arise between two (or three, or four) consenting adults. A mecca that welcomes you no matter your age, gender, sexuality, kinks, or desires, this app features a simple and Tinder-like layout for easy access to a good time. Originally called Thrinder, Feeld used to be just for threesomes, but has expanded its palate to helping you get connected to whatever thrills you most. While this app does have a Majestic (read: paid) plan, you don't need it to have a good time.
What's the catch?
The only problem with this app is its tendency to glitch out, making it a little frustrating. However, they're constantly improving and updating with new patches. Smaller towns may also have a hard time finding honeys nearby, since this sexy app is most popular in large metropolitan areas.
Adult Friend Finder
The classic online website has a whole new version right on your phone. Adult Friend Finder's website, originally an online personals site in the 90s, is there for you no matter how kinky your desires are. While the app version is its vanilla sister, they still promise to get you laid ASAP.
What's the catch?
The problem is, it's literally only made for straight people: if you register as a woman, you can only look for men, and vice versa. Typically, sites like that tend to have an overgrowth of men and a lack of women, so be aware before you set your hopes too high.
Hud
Hud has something the other apps don't: a Q&A section unlocking your desires. With a feature called your "bedroom" you're asked about twenty questions on your steamiest kinks, and you can answer "yes," "no," and "maybe," to let your potential partners know where you stand on things like nylons, feet, biting, blindfolding, and more. Checking the pulse of your matches for some common kinks gives you an inside peek at their bedroom habits. To make sure your date goes smooth before the smooching begins, Hud lets you choose what kinds of clean fun you're into, like karaoke, fine dining, or picnics, so you can have the time of your life before even getting undressed.
Another great thing about Hud is its trans* inclusivity, with fifteen different gender identity markers, making it a great place to be exactly who you are if you're looking to get laid. But my favorite offering, hands down, is their SAFE badge that lets users know who's been tested recently. Safety comes first in unleashing your sexiest side, and this easy tool helps keep you secure and ready to go.
What's the catch?
Despite those excellent gender parameters, Hud only lets you search for men, women, or couples, so I'm not sure where trans* and nonbinary people would pop up in searches. Maybe when this app gets more popular, they'll work out that wrinkle so we can all have an easier time getting some action.
Wild
With the same layout as Hud, this one-on-one focused site is all about getting you hooked up with another lucky solo cutie tonight. Wild has tons of options for listing your intentions, so nobody's left in the dark, and you can choose to say whether you're looking for people to chat with, looking for a hookup, or down for something long term. To make sure you're compatible before that steamy date, you can whittle down interests including music genres, Game of Thrones, porn, and Pokemon Go.
To keep you from those catfishing swindles, Wild has a photo verification system, so who you're talking to is the same person in the photos. Best of all, you don't need to wait for a match to go ahead and start messaging that special someone who looks to be a cut above the rest.
What's the catch?
Although this app is promising, it's hard to find people nearby. Even living in the San Francisco area, most matches tended to be at least forty miles away, which is disappointing – but for good sex, I think we're all willing to drive.
Also, while messaging before matching is a pro for some people, if you're a lady, that's generally a con. Why? Because it translates to uninvited dick pics – which nobody wants to see.
3fun
The name doesn't lie: 3fun is all about hooking you up with a Grade-A Threesome. You can sign up and start swiping to fulfill all your hookup needs and sexy threesome visions. I like that 3fun doesn't make you decide on someone straight away. You can swipe to save a profile for later, or tap a like or dislike button to file them away. The emphasis on this site is group sex, so if that's your jam, 3fun is here for you.
What's the catch?
Like a lot of threesome sites, the gender balance is really unmatched. There seem to be a bunch of couples and single men, and not a lot of everyone else. If you're a woman, prepare to get lots of likes and be real popular. For couples and single men, expect to put in extra effort when you're wooing the available cuties.
Some of these sites guarantee more than others, but these all are here to cater to your wishes (for free). Long term or just for the night, missionary or hog-tied, all these sites will deliver you an unforgettable ride.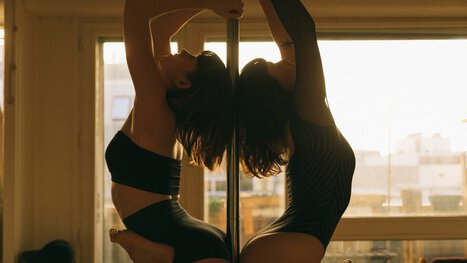 There's one site that's been around for over a decade, and knows how to get you your wildest fantasies. What am I talking about? A little gem called FetLife.
Angie [1 mile away] wants to bang