We all want to get laid, and nowadays, it seems like we have more options than ever for having fun. But we all know that not all sites are created equal. Sometimes, you find yourself doing a lot more swiping and a lot less smooching – and is there little worse than the endless scroll on the quest for some play? Thankfully, here are five sites that deliver – and one of these local sex sites guarantees a spicy time once you have a date in the bag.
---
Hud
This lesser-known app may not be a household name, but it certainly offers some gold. With fifteen different gender identity markers available, Hud is here for everyone's sexy needs, no matter what.
But that's not the only reason to come rushing to Hud's door: they have a one-of-a-kind feature called your "bedroom" that lets you share exactly how you feel about kinks and fetishes including butt stuff, wax, nylons, choking, and dirty talk. Any traits you share with the eligible cuties you're swiping will be highlighted, letting you see how much sexual chemistry you have right off the bat.
Getting the temperature for these more common kinks and dirty deeds is a genius way to help you advertise exactly what you're putting out. In addition, you can mark your more work-friendly interests like karaoke, video games, fine dining, or fitness, so dates have an inkling of what kinds of fun to invite you to before hopping into bed together.
If all that weren't good enough, one of the best things about Hud is their SAFE badge to see who's been tested recently. Not everyone likes to talk about it, but having that knowledge is essential for you to loosen up and have a real good time.
What's the catch?
Despite those fifteen wonderful gender parameters, you can only search for men, women, couples, or "everyone." There's no way to search for trans* or nonbinary honeys to get it on with, even if you label yourself as one, which is a pretty significant oversight. To make it worse, since this isn't a very big app, you may be hard-pressed to find someone in your neighborhood hot and available tonight – but hey, the more of us that sign up, the more we get some action, right?
Feeld
Feeld is bae. Seriously. The premier hookup app for queer folks and couples looking to get it on, this app is in a league of its own. With no judgments and a remarkably wide age range, there's a lot to love about Feeld. Like the Tinder-style layout for easy browsing, and the way that couples can link their accounts so users can browse and see exactly who's invited to the kinky party. This app was originally called Thrinder, since its focus was threesomes, but since then it's gone on to welcome whoever's feeling frisky.
If you feel like you may not fit all the checkboxes a traditional dating site is looking for – whether that's because you're in a couple, older, super kinky, queer, or poly, Feeld is the place for you.
What's the catch?
Unfortunately, this app likes to glitch, so when you've gone through twenty cuties and close out the app, don't be surprised if the same people you rejected pop up again.
AntiLand
If you aren't looking to get dressed up to woo someone at a bar, but you want sexiness delivered right to your screen, look no further than AntiLand. An anonymous, sexy, and titillating website, you can dive into sexy chatrooms to flirt, exchange sexy selfies, and more. Once you click with a long-distance cutie, you can PM each other to get extra steamy in private.
What's the catch?
It technically doesn't allow nudes, dirty talk, or anything explicit in the public chats, so be careful not to get banned. A lot of flirting is par for the course, but keep it clean(ish) until you get into the PMs.
3rder
Exactly what it sounds like, this app is here to hook you up with the threesomes of your dreams. You can only specify that you're a man, woman, or transgender (although you can't specify trans*woman or man). 3rder works like a good old fashioned Tinder fantasy with verification systems in place to keep you from getting catfished.
What's the catch?
I'll level with you: although it's full of real profiles, this place is a unicorn hunter's trap. In my experience researching dating sites, ones geared towards straight people tend to have unbalanced scales in the dating pool. 3rder has a lot of couples and single men, and not a lot of single ladies looking for threesomes with straight couples. So if you're a single woman who's eager to try a threesome, 3rder may just hook you up to your deepest fantasy. Otherwise, keep your expectations low.
Couple Game
Okay, so you've gotten someone from one of these apps back to your apartment and you're ready to start having fun. But their profile said they're a little kinky, and you're intimidated. Don't be underprepared without toys or entertainment! This app is a built-in sex game tailored to you. Essentially dirty truth or dare, Couple Game lets you set it at soft, hot, hard, or extreme. You both enter your names, and it'll randomly choose the first lucky victim to choose truth or dare. Get ready to uncover naughty secrets from your date, or prepare to get hot and heavy with a tantalizing dare. Soft dares include gems like "Fondle X's earlobe with your tongue" on a twenty-second timer.
If you're feeling friskier, try the Naughty Dice for randomly chosen commands to suck, tickle, nibble, blow, massage, and lick different body parts.
What's the catch?
Unfortunately, this app is currently only for couples. If you're looking to get freaky in groups, they do have a multiplayer app you can get instead. One of the biggest downsides? Anything other than the "soft" levels costs a one-time fee. For a good sexy game always in your pocket, however, it may be worth the price.
Don't choose just one – download all five of these apps tonight to let the fun begin.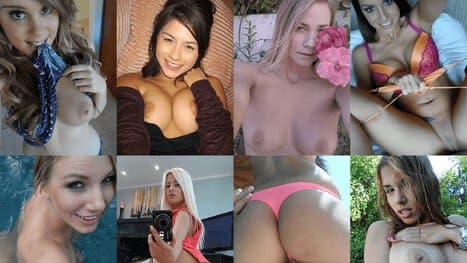 Welcome to JustBang.com, the fresh adult dating app that makes it easy to find casual sex near you. Join free to someone new instantly, and hook up tonight!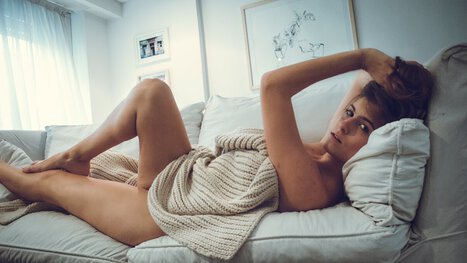 Looking for a casual encounter? Before you start making your dating profile, read this guide first and avoid making these common mistakes.
Angie [1 mile away] wants to bang